At Bordon Infants we value school uniform as we believe it helps children feel a sense of belonging and pride in their school.
Our school uniform is: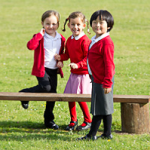 Boys
Black shoes
Black or grey trousers
Red or White polo shirt
Red jumper
Girls
Black shoes (not boots as young children find it hard to sit on the floor wearing them)
Black or grey skirt or trousers (or red and white checked dress in the summer)
Red or White polo shirt
Red jumper
Red cardigan
PE
Plain white t-shirt
Plain black shorts
Sports trainers or black plimsolls
Plain navy blue hooded jumper
Plain navy blue or black tracksuit bottoms
A bag to put all the above items in.
Items that are available to purchase at the school office:
White polo shirt
Red jumper and cardigan
Plain navy blue hooded jumper
Plain navy blue tracksuit bottoms
Reversible jackets with a fleece lining are also available at the office at £16.25.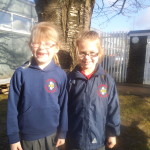 Book bag £4.40
PE bag £3.55
Baseball caps £3.50