Our School Curriculum Vision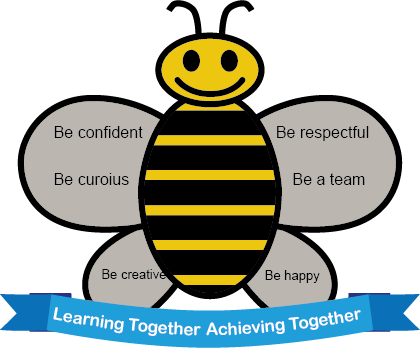 Our curriculum is designed around two very simple concepts
We ensure our children learn and embed the key skills necessary in every subject area to enable them to move onto their next stage of learning confidently
We ensure our curriculum is full of rich activities and inspirational moments to broaden our children's horizons, to provide them with opportunities to develop passion for areas of learning and to introduce them to potential aspirations they had never dreamed of before
| | |
| --- | --- |
| Being Confident | by showing resilience and challenging ourselves |
| Being Curious | about ourselves as learners and how to become a better learner |
| Being Creative | by using my imagination in all my learning |
| Being Respectful | to everyone in school and by using my manners, thank you, please, sorry and excuse me |
| Being a Team | by following all the school rules and my Class Values |
| Being Happy | by looking after myself and my friends |
Year 2 Windsor Castle Trip June 2022
Year 1 Southsea Trip June 2022
Marwell Zoo Trip July 2022
Below is an example of the trips and visitors we may have.

Year R
Year 1
Year 2
Autumn

A walk around Bordon

Visit to Bordon Library

Bordon Military Cemetery
Winchester Military Museum
Spring
Mad Scientist Workshop
Intech Science Museum
Intech Science Museum
Wisley Gardens
Summer

Mill Cottage Farm experience

Marwell Zoo

Southsea Trip

Windsor Castle

Bordon Inclosure
What we are learning:

National Curriculum – click here to visit the National Curriculum

Read Write Inc – the phonic program we follow.

English Skills map

Maths curriculum and Calculation Policy

Maths vocabulary from Year R to Year 2 and Supporting your child at home with Maths
We want to inspire children with their learning and to put things into context for them.
Our curriculum is based on themes that we believe will capture the children's imagination and reflect their lives and interests. The children will explore the local area whilst learning about World War 1, or learn how to write a story using Julia Donaldson's storybooks The Gruffalo. Each half term we send home information about what the children will be learning and what the context for that learning is. We hope that this will allow parents to really get involved with their child's time in school.
Parents can help support their child by reading regularly with them, encouraging them to learn their spellings and helping them to do their best with their topic homework once a half term.
Below, in each of the year groups you will find the current topic leaflet which will give you some ideas of activities you can do with your child related to their learning in school.